Proudly Serving the Community for Over 20 Years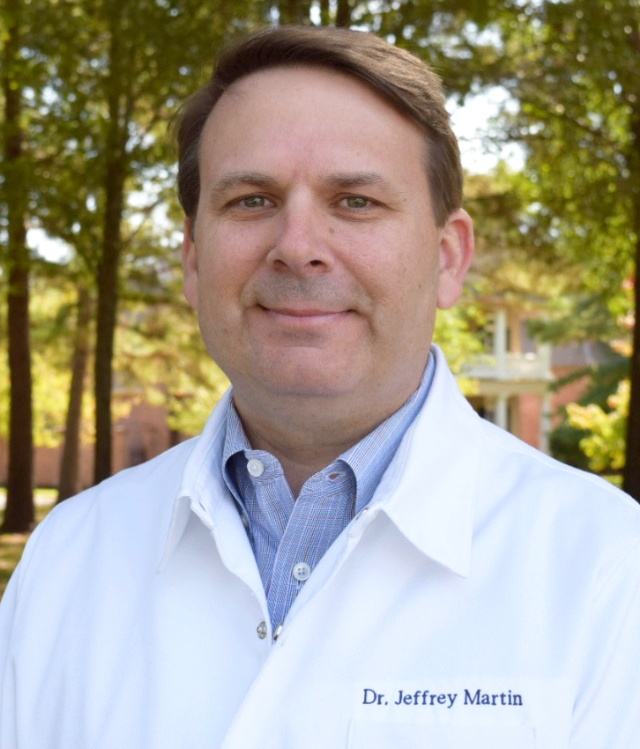 Jeff Martin, DDS
Our skilled dentist in Shreveport, Dr. Martin received his dental degree from the Louisiana State University School of Dentistry and has since undergone extensive postgraduate education each year with a focus on dental implants and IV sedation. He has achieved Fellowship in the International Congress of Oral Implantologists and is a member of the American Dental Association and American Dental Society of Anesthesiology. A recipient of the George L. Edwards Award for Practice Innovation, he is also a member of the faculty at Implant Pathway. He strives to treat each patient as he would a family member.
Dr. Martin is very active in the community as a member of Simple Church and a volunteer for Dental Lifeline Network. He also spent multiple weeks treating homeless veterans at Brighter Way Institute in Phoenix, AZ. He and his wife Mindi have three daughters, and in his spare time he enjoys LSU sports, hunting, kayak fishing, and spending time with his family.
Christene Anthony, DDS
Dr. Anthony, our expert dentist in Shreveport received her undergraduate degree from Louisiana Tech University and her dental degree from the LSU School of Dentistry. Her continuing education has included dentures, tooth extractions, and oral surgery as well as implant placement and restoration. She enjoys improving patients' lives by providing a means to a healthier and more beautiful smile. Her volunteer work includes Missions of Mercy and Dental Lifeline Network, and she has participated in multiple humanitarian trips to Mexico. Her professional memberships include Shreveport Elks and Ark La Tex Academy of Dentistry. Dr. Anthony and her husband have two great sons. She attends Simple Church and enjoys practicing tai chi, riding bikes, hiking, and exploring the outdoors with her husband.
Jennifer Henley, DDS
Dr. Henley also graduated from the LSU School of Dentistry, then went on to gain additional training in oral surgery techniques and removable prosthodontics. Her focus is on the connection between oral health and systemic health, including how diet and exercise improve overall well-being. She is able to offer a comprehensive evaluation of her patients' medical conditions and how they pertain to their oral health. A member of the Ark La Tex Academy of Dentistry, she also volunteers dental services for the Dental Lifeline Network. For two years, she served as a clinical faculty member at the Lamar University Department of Dental Hygiene.
Dr. Henley set her goal of becoming a dentist at age 2, and after 25 years in the field she is still excited to make a positive difference every day in the lives of her patients. She and her husband Ron have four children. Their daughter is teaching English in South Korea, and their three boys keep them extremely busy with sports and extracurricular activities. She finds time to serve as treasurer for the Loyola High School lacrosse team and is an avid supporter of Loyola football as well as a committee chair for the Loyola Parents' Association. Additionally, she is an active member of St. Joseph Catholic Church, where she serves as a lector and volunteer with children's ministries. In her spare time, she loves to travel and is a big fan of the New Orleans Saints and Pelicans.